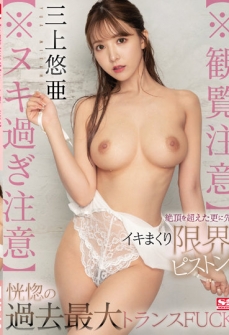 SSIS-509
Online view
She goes beyond the limits of climax! The biggest ecstasy trance ever – Yua Mikami
SSIS-509
Reading the title, I expected some extreme hardcore, but in a nutshell, they just pound Yua *a bit* harder…
We have three scenes here:
The first scene features Hirota and has a lot of deep stares at the camera from Yua, done with (too much) purpose. Yes, 30 minutes of stares are too much.
This scene lasted almost 1 hour in total and ended up being the movie's best scene, to my surprise.
The second scene features Daisuke Sadamatsu in a massage setup that uses just a little bit of oil. I don't understand why they were so stingy with the oil if this was the time to go nuts. Kind of underwhelming.
The 3rd scene was a 3P and had the most potential. There was an interesting moment where she almost put the two cocks in her mouth at once. Other than that, it felt pretty boring. It's surprising how little happened in such a long scene. Not to mention the weird choice of camera angles.
Yua is still our queen, but hopefully, S1 will put her to better use soon.
SSIS-509 Porn Watch Online Free JAV Streaming Porn in WEB-480PX quality, with super hot Mikami Yua model! Download SSIS-509 in 720px from S1 NO.1 STYLE free and without ads!
Year:

2022 Year.

Time:

120 min.

Actress:

Mikami Yua

Genre:

Solowork, Big Tits,

Release:

2022 Year.

Studio:

S1 NO.1 STYLE